ATTN::: SHANE we spoke re: my site. I lost my phone 1 day later so I do not have your # and my # has changed. Please click on "contact me" at the left side of screen and send me an email. I am still interested.
WELCOME TO MY SALE SITE. THERE ARE SEVERAL PAGES OF DIFFERENT STYLES OF CHINA & CRYSTAL AVAILABLE. BROWSE THROUGH THE PAGES ON THE LEFT TO VIEW EACH COLLECTION AND LET ME KNOW WHAT YOU THINK!

I am looking to sell fairly quickly. Any reasonable bids would be considered. Please feel free to contact me with any questions or offers. Just click the link on the left side of page.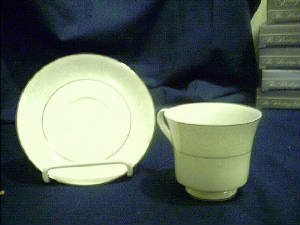 Limoges - American - Lace Bouquet pattern.
Never used. Pictures & details of place settings on site page. If more specific information is needed please advise. All are still in original packaging and most original boxes with authentication paper inside each.